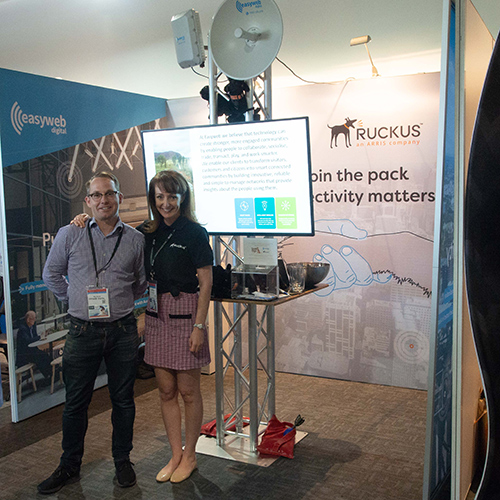 Over two exhibiting days, Tuesday 26th March 2019 and Wednesday 27th March 2019, Easyweb Digital and Ruckus Networks experienced 'Riding the Wave' of local government transformation for the digital era at the Municipal Association of Victoria's 2019 Technology Conference. Representing Easyweb Digital; our Business Manager, Daniel Sacchero and Technical Services Manager, Ben House. Those who represented Ruckus Networks; their Enterprise Account Manager, Jens Hoops and Channel Account Manager, Janine Farley.
Collaboratively, Easyweb Digital and Ruckus Networks assist with digital transformation of cities, and council and library spaces; implementing Smart WiFi solutions and new digital services such as IoT applications.
You can read about Easyweb Digital's Public WiFi for Goulburn Valley Libraries in this case study. Alternatively, examine the Point-to-Point connectivity solution we implemented for Horsham Rural City Council.
At this year's conference, we found homes for all of the plush Ruckus Networks dogs and for each new contact we made, we donated a sum of money to our charity of choice, Guide Dogs Victoria. Collectively, we contributed $195. All parties involved really appreciated the support.