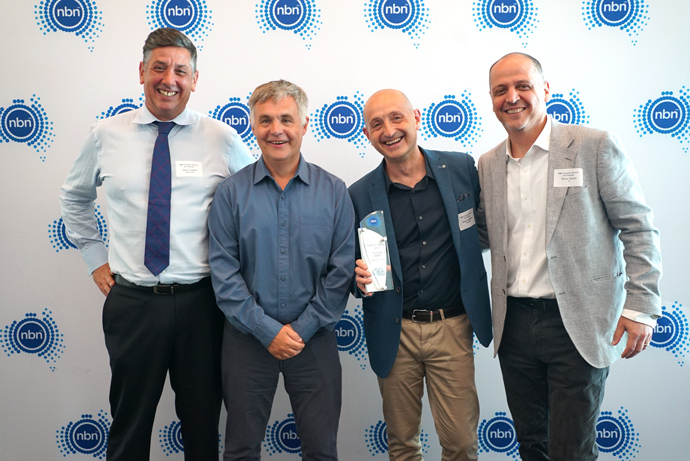 The Easyweb Digital team celebrated a successful day at nbn's Supplier Summit and Awards for 2022. We were recognised in two award categories; the Extraordinary Project of the Year category for our STAND project, and the Liakukana Award for our Blueshift project.
Extraordinary Project of the Year Runner Up
Easyweb were awarded runner up for Extraordinary Project of the Year for the STAND (Strengthening Telecommunications Against Natural Disasters) project. This category recognises where suppliers and partners have stepped in to support communities in times of uncertainty.
The STAND project, a Commonwealth Government initiative, saw Easyweb design, build and manage the emergency WiFi systems for the Disaster Satellite Services. These ruggedised systems work with SkyMuster Plus satellite services to provide communication capabilities for over 900 emergency management sites, including evacuation centres and fire stations across the country. 
In an emergency, these systems can be switched to "disaster mode" to address the emergency service requirements on the ground. They can also provide free satellite WiFi connectivity for the public, acting as a critical support service to disaster affected communities where communication networks are disrupted.
It was a privilege to be recognised in this category alongside some of Australia's most innovative digital leaders, such as Infosys Technologies who won the award.
Liakukana Award Joint Winner - Communities in Isolation/Blueshift
Easyweb was also the joint winner of the Liakukana Award, alongside Fulton Hogan Utilities, for our contribution to the Communities in Isolation project.
Liakukana is a significant achievement for us, with the award recognising the importance of establishing engagement and connection with First Nations cultures. This supports nbn's vision of digital inclusion - a vision that is shared and supported by Easyweb.
Communities in Isolation is delivered as a fully managed service by Easyweb, including the design, build, installation and ongoing assurance of ruggedised standalone WiFi systems in Indigenous communities. Initially launched to connect communities in the height of the COVID-19 pandemic, the success of Communities in Isolation has seen the project expand to over 100 sites across Australia.
"Whilst many Australians now take high-speed, affordable internet for granted; many remain disadvantaged. They are mostly First Peoples. As the world goes digital-first, and citizens become digital natives, equitable and readily accessible internet access within Indigenous communities - that also accommodates the cultural differences in how we transact - has never been so important" - Darryl Clarke, Easyweb CEO.