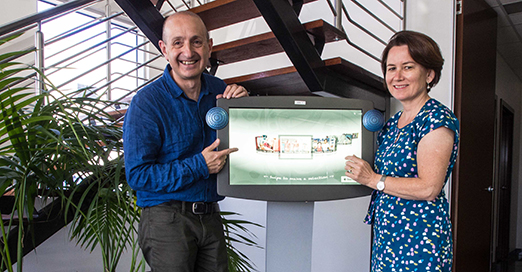 We're Connecting WiFi to Hitnet Community Hubs
Hitnet and Easyweb Digital recently entered into a three year partnership to deliver free WiFi hotspots via Hitnet's Community Hub network around Australia.  This includes the fixed indoor Hubs and the soon-to-be-launched Mobile Max outdoor Hubs.
 We're very glad to be building our relationship with Hitnet; an innovative Australian 'Communication for Development' company that builds the smart digital ecosystems needed to reach and engage marginalised communities over Australia.
The Hitnet Community Hubs have a touchscreen kiosk as their centrepiece, and the introduction of Hitnet WiFi will create a digital ecosystem around the Hubs. These Hubs allow their surrounding communities to interact with local community content, health and social videos, interactive surveys and apps. The WiFi will also enable community users to download information from the Hubs onto their mobiles. Most importantly, the Community Hubs are configured to appropriately communicate all of this information within the respective cultural environment and in the local Indigenous language.
And here's where Easyweb Digital come in – we are integrating technology within these Hubs which will add the secured WiFi hotspot feature. The secured WiFi access will be managed centrally by Easyweb while complying with all relevant Australian legislation.  The Hitnet Community Hub will not only be a place for users to access relevant information, it will become the central point for people to be digitally connected within and beyond their direct community. We cannot wait to get this project underway and support Hitnet with the great work they do.
The Hitnet Max outdoor community hub, Julie Gibson and Daniel Sacchero in the photograph above.