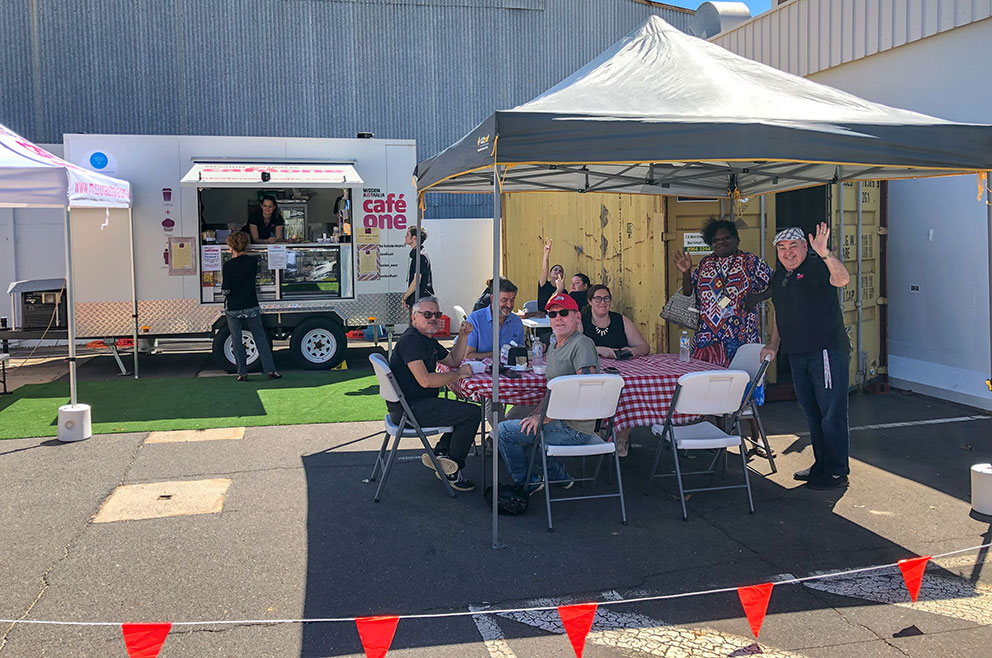 On Wednesday, our Business Manager, Daniel Sacchero, visited the Mission Australia Café One trailer event, Carpark Café Extravaganza. The event started this month, and operates from 10am-2pm every Wednesday on Carey Street in Darwin.
Daniel arrived at midday and was welcomed by Café One Youth Educator / Facilitator, David Taylor. David introduced Daniel to the budding young people working in the Café One program who were busy serving customers and preparing for the lunch rush. The word was out that Daniel was visiting from their WiFi hotspot provider, Easyweb Digital, and he was presented with enthusiastic thumbs up from the students. Daniel conversed with program members and mingled with the customers.
There was a great turn out of people picking up lunch, and some staying under the shelters to enjoy the glorious 30+ degree weather while they ate. Daniel exclaimed that the food being served looked delicious. The Café One trailer offers a lunch deal consisting of a snack, a main and a cold drink or coffee. Daniel decided to go with the Roasted Pumpkin and Feta Salad - a choice he did not regret!
The Mission Australia office and the Carpark Café Extravaganza are both conveniently across the road from another loyal Easyweb Digital customer, the Zen Quarter Hotel. Daniel loved the friendly vibe at the Café One trailer and will be sure to go back again the next time he checks in with our Darwin customers on a Wednesday!
For more Carpark Café Extravaganza information, please contact Pippa Hiroti on (08) 8935 0900 or hirotip@missionaustralia.com.au.
To learn more about Mission Australia or to donate to give young people a brighter future, please visit www.missionaustralia.com.au.