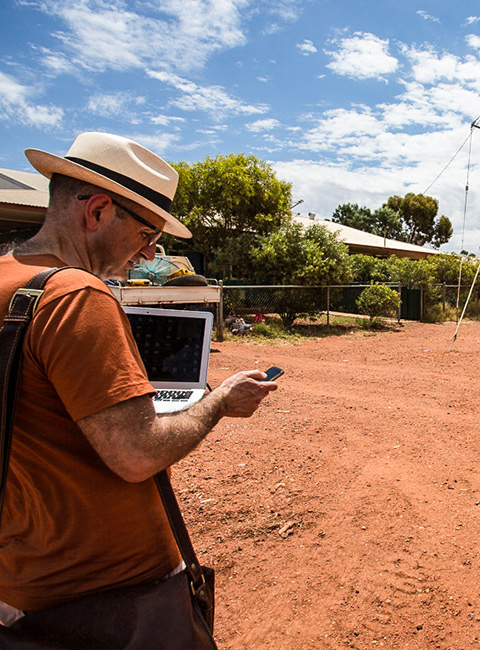 The team at Easyweb Digital are thrilled to have our Business Manager, Daniel Sacchero, selected as one of the Cambium Networks' 'Connectivity Heroes' for this quarter. Cambium Networks are one of our technology partners who equip us with a lot of the technical gear needed  to keep our projects running. We wouldn't be the services provider that we are today, if we had not formed this solid business partnership with Cambium Networks.
To keep up with our technologically advanced world, WiFi connectivity is paramount. WiFi offers us the ability to easily access digital education, entertainment and social platforms. At Easyweb Digital, we service sites all over Australia, many of which are in indigenous and remote areas of the Northern Territory. We recognise the necessity for everyone to be given the opportunity to engage in online activity, no matter how far away from the big cities you are – everyone should have the same accessibility to beneficial, modern infrastructure.
In addition to Daniel Sacchero being awarded the title of a recent 'Connectivity Hero,' Cambium Networks offered a benevolent sum to be gifted to the organisation of his choice. The team at Easyweb Digital were very pleased to hear the news, as were Central Australia Youth Link-Up Service (CAYLUS), who were selected to receive the donation. CAYLUS has operated since 2002 in Alice Springs and is a division of Tangentyere Council; the organization works in communities requested by their local people and agencies. CAYLUS focuses on developing rehabilitation services, youth programs, responsible sale of solvents program, night patrols, policing initiatives, football carnivals and video and radio projects in local languages.
Easyweb Digital provide Public WiFi systems at three of the Alice Springs Town Camp computer rooms which are run and supervised by CAYLUS: Hidden Valley, Karnte and Nyewente. CAYLUS also extended their service to accommodate for personal devices to connect to their Public WiFi. Not only is the integration of Public WiFi beneficial for the connectivity of young people; it allows an entire community to engage with various online platforms such as government services, self-learning and social media. As a result of CAYLUS working with the local community and Easyweb Digital, they have developed the ability to manage and reduce the risks of online trolling and bullying. CAYLUS deploys an Easyweb Digital managed WiFi platform which can be used to limit hours of operation, set daily download limits, provide strong content filtering and block particular sites on a temporary or permanent basis. The integration of Easyweb Digital assists in keeping online experiences safe for all users.
There are four new 'Connectivity Heroes' award winners each quarter, so if you know someone special who has changed the world by connecting the unconnected, you can nominate them here. 
Read about all of Cambium Networks' 'Connectivity Heroes' to date, here. Connectivity Hero Winners
The Easyweb Digital team would like to acknowledge the Traditional Custodians of the land where we work and live; the Wurundjeri and the Wiowurrung people of the Kulin Nation and the Arrernte people of Mparntwe.
We recognise their continuing connection to land, water and community. We pay respect to all Elders past, present and emerging. The sovereignty of Aboriginal and Torres Strait Islander people has never been ceded.